Description
Key Highlights:
Prepared by Experts
Trusted by students (well tested by students who cleared their exams via our Live Courses and Study Material)
Full Syllabus covered in details
Especially curated for MPhil Clinical Psychology exam
Life Time Access
Accessible in our App as well as our Website
WHAT DO WE OFFER?
Topic-wise NOTES for all units (Psychology) as per the latest syllabus.

All units covered in detail and curated especially for MPhil.
SNEAK PEAK INTO THE NOTES:
Kindly find the following samples attached to take a peek into our notes
Sample Unit 3 Link

Sample Unit 4 Link

Sample Unit 5 Link

Sample Unit 9 Link


For MPhil Examination Notes, the Units covered are:
UNIT 1 (General Psychology - Attention, Perception, Learning & Memory)
UNIT 2 (Research Methodology & Psychological Testing)
UNIT 3 (Physiological Psychology)
UNIT 4 (Personality)
UNIT 5 (Developmental Psychology)
UNIT 6 (Social Psychology)
UNIT 7 (Clinical and Abnormal Psychology)
PowerWithin Journey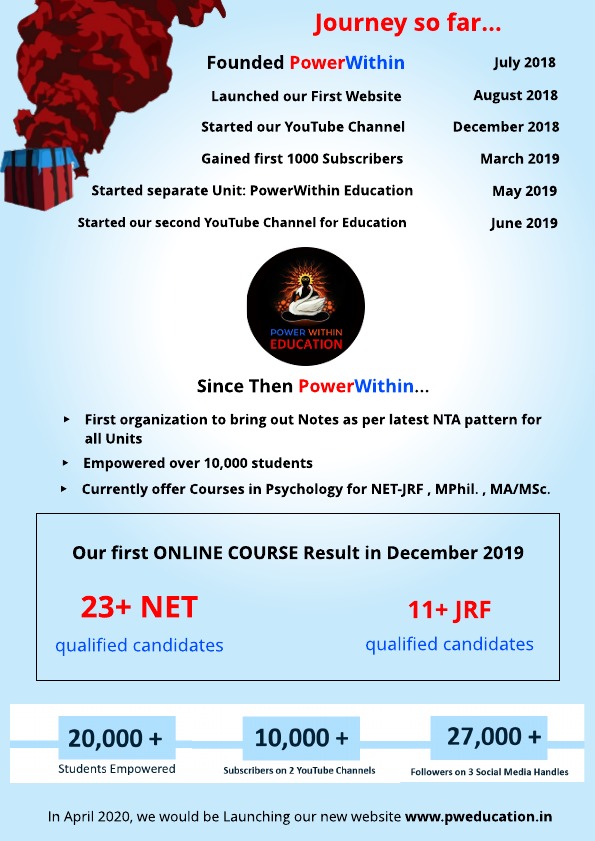 *All Notes are well-curated and compiled from the verified sources to help students Ace their Exams.

We wish you all the best in your Preparation!!!